"Circular Leadership, Together We Rise" is written by 19 authors in collaboration with Linda Roebuck, Founder of A Community of Transformation (ACT). What these authors have in common is that they have all participated at one time or another on the Board of ACT, called the "Co-Creation Council (CCC)." The CCC is managed and operates in Circle.
And the book was created using the styles, principles and guidelines of "Circular Leadership." Imagine assembling the diverse thoughts, experiences, styles of leadership, writing styles and understandings of "circles in action." The only way to accomplish this is by using the approach so artfully and skillfully explained and demonstrated in this valuable text!
The authors: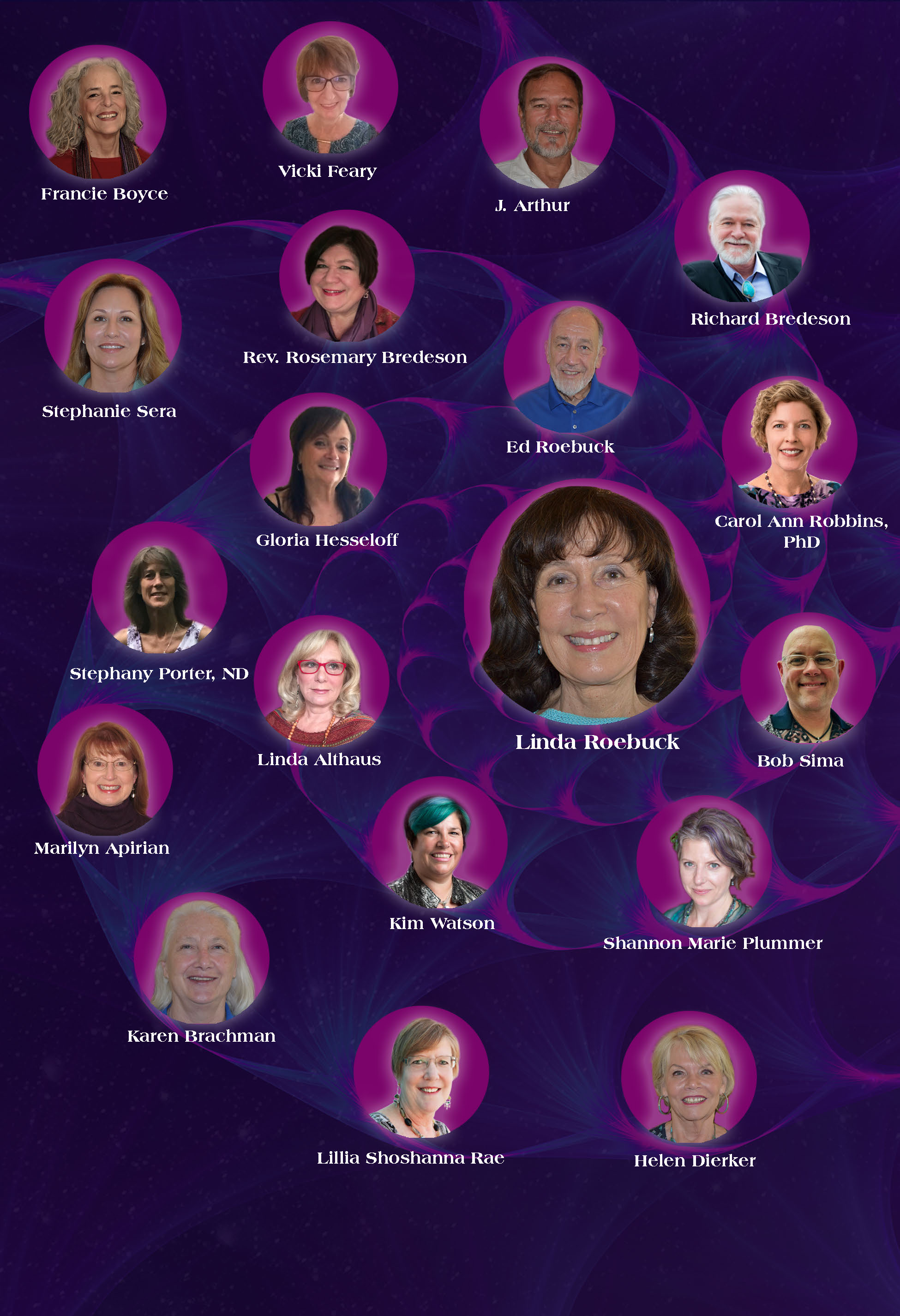 The bios:
Linda Althaus
Linda Althaus continues an active life after a nursing career in fields of oncology, home care and hospice. Currently she is treasurer for ACT and on the CCC. Linda is a Reiki Master and also serves as a prayer chaplain at Unity by the Bay Spiritual Center in Annapolis. She has served those in transition by holding a sacred, compassionate environment for them and their families. You may find her traveling cross country, with her rescue pups in her camper, loving a simple life with nature and adventure.
Marilyn Apirian
Marilyn's background includes software engineering, counseling and hospice social work. She has taught yoga and facilitated energy healing using a variety of modalities for over twenty-five years. She prefers to use experiential processes to assist participants in discovering their own insights and truths and to determine their next steps for integrating these into their lives. Marilyn's personal focus is compassionately pursuing her and other's evolution into what Peruvian shamans have foreseen — into homo luminous. Email: [email protected].
J. Arthur
Little Jimmy went swimming every day, and when it was too cold he'd either be canoeing or fishing. Frogs, tadpoles, crawdads, and other creek-critters knew to hide especially well once his grade school let out each day. Watercolor sunsets preceded the bats, lightning bugs, and sometimes, the owls. Later, stargazing, meteors, and the occasional satellite were always best after moonset. For him, there was always a day full of time for everything he did.
Francie Boyce
Francie has an Eden Energy Medicine practice in Maryland. She is a founding member of the Eden Energy Medicine certification program. She has taught throughout the United States and Great Britain. She can be found on the Eden Energy Medicine website www.Innersource.net/em/
Francie and her husband have been facilitating A Course in Miracles study group for over sixteen years. Francie's desire is to help clients and students see their own divinity within while also recognizing the divinity of others.
Karen Brachman
Karen Brachman is a powerful helper who finds joy in being of service to spirit. She worked hard doing but now just wants to be a loving presence. She is a Reiki Master, a Shaman, a QiGong student, an artist and an animal lover. Her three adult children taught her how to live from her heart, appreciate special needs, to receive and give unconditional acceptance and love, and enjoy the synchronicities each day. Her curiosity leads to adventures and laughter.
Richard Bredeson
Richard Bredeson is both a technologist and a healer. He maintains several websites for both ACT and his and his wife's businesses and church. As a healer he studies, practices and teaches Qigong, an ancient Chinese approach to health, happiness and longevity. He is a non-voting member of the ACT Co-Creation Council that meets in Circle. Richard is also a poet working on several collections to be published soon and published on his blog: www.MenandtheGoddess.com.
Reverend Rosemary Bredeson
Rev. Rosemary Bredeson is The Scientific Mystic, a spiritual counselor/mentor who has been accessing higher dimensions all of her life. While working for the US National Aeronautics and Space Administration on the Hubble Space Telescope, Rosemary felt a calling to become a spiritual healer. Today she uses her multi-dimensional abilities and her training in NLP (Neuro-Linguistic Programming), Hypnosis, Reiki, etc. to help others transform their lives into the vision they dream. Visit www.TheScientificMystic.com for a free 7-minute meditation to de-stress!
Helen Dierker
Helen Dierker is a retired business owner and executive. In college and business her interest was in the individual and providing training and development to her staff and her clients. As President of Neptune Specialty Training, she provided training and Continuing Education credits for insurance agents along the East Coast. Helen has traveled to China to study Eastern Religions and Qigong with Masters. She is a Certified Life Coach and lifelong student of Metaphysics and Spirituality.
Vicki Fearey
Vicki Fearey is a licensed clinical professional counselor with a focus on healing from grief and loss. She works as a bereavement coordinator for Heartland Hospice and as a psychotherapist in private practice. She blends her training as a certified life coach and a certified hypnotherapist into her practice. She is an advanced Reiki practitioner and a registered yoga teacher. Her focus is on helping people to grow holistically and spiritually. Vicki has served on the ACT Council in the Annapolis area for three years.
Gloria Hesseloff
Gloria Hesseloff holds a Masters degree in Education, is a certified counselor and an astrologer and the "uncertified" Goddess of Good Times. She is a metaphysician who integrates the new sciences of quantum physics and neurobiology with her astrological passion. Gloria has been on the Co-Creation Council of ACT for eighteen years and the Program Chair for seventeen years, helping advance ACT's unique mission to do collaborative good in the community and the world.
Shannon Plummer
Shannon Plummer is a shamanic practitioner and intentional creation coach. She will guide you to and through the blind spots, allowing your higher self and vision to illuminate your passion within. Shannon's intuitive and heart-centered healing, coaching, and visioning will lead you to a more authentic way of living. Her unique energy and presence creates a sacred space for expansion and deepening of what is waiting to be expressed. More at www.SpeakMyPassion.com.
Stephany Porter
Dr. Stephany Porter graduated from Bastyr University in Kenmore, WA. Her passion for integrative oncology led her to seek a degree in Naturopathic medicine and become a FABNO (Fellow of the American Board of Naturopathic Oncology). She founded The Bodhi Clinic and has served on various boards. Her passion for understanding dis-ease (being out of ease), has led her to study various spiritual paths and practices. As a student of life, she has had the honor of speaking to professional groups and providing workshops for her clients on topics that range from nutrition, to the effect of herbs on cell signaling, to mastering our minds for our true creative powers. www.BodhiClinic.com.
Lilia Shoshanna Rae
After thirty years as a state legislative lawyer, Lilia Shoshanna Rae began answering her call as a messenger for the angelic realm. Lilia is the author of The Art of Listening to Angels2. She helps lightworkers and spiritual healers access angel wisdom so they can more easily and effectively live their life's purpose. Lilia is also a Reiki Master and a teacher of the Enneagram. Learn more at www.LiliaShoshannaRae.com.
Carol Ann Robbins, PhD
Carol Ann Robbins, PhD is a clinical psychologist specializing in the diagnosis and treatment of ADHD across the lifespan. As Director of the Annapolis ADHD Center, she treats individuals of all ages, families, and couples with ADHD and co-existing disorders. Dr. Robbins is an experienced professional workshop presenter, author, and leader in her field. She brings to bear her passion for spiritual exploration, growth, and transformative healing in her work as a psycho spiritual healer. She is a student of Qigong, tai chi, and yoga and a Usui Reiki Master.
Ed Roebuck
Ed Roebuck is a heart-centered beacon of light and love. He recently retired after 54 years in education as a teacher, trainer, curriculum specialist and administrator. A friend, a listener and reflector, he is a teacher, both professionally and in the game of life. He loves coaching and working with youth. Ed is a Karuna and Usui Reiki Master. Sir-Laughs-A-Lot likes to play and is an aspiring poet. He loves nature and finding crystals.
Linda Roebuck
Linda founded A Community of Transformation (ACT), a non-profit educational organization, in 2001, whose focus is on holistic health: www.ActAnnapolis.org.
A teaching Usui and Karuna Reiki® Master, Linda is a gifted spiritual mentor, catalyst for change, and facilitator of remembering ancient knowledge. Her business, Linda Roebuck and Associates, LLC, offers programs, training, and individual sessions using the Alchemical Attunement and Activation (AAA) Healing© system she developed. Her website is www.LindaRoebuck.com.
Stephanie Sera
Stephanie Sera is a citizen of the world, who lives in Davidsonville, Maryland, where she runs a small design business.  She is married to her husband of nearly 40 years, is the mother to four children, with one grandchild and two dogs.  She enjoys practicing Reiki, gardening, and cooking.  Her greatest desire is to come full circle and return to the world of painting.
Bob Sima
Bob Sima is a troubadour, a way-shower, a guide, an awakener, and a musical mystic. Through the medium of melody and message, he leads listeners to an expanded consciousness, deeper sense of connection, and inner peace and purpose. His music bridges daily life and soul consciousness: the eternal with the now. He delivers instantly accessible songs that take up residence and resonance in your soul. More at www.bobsima.com
Kim Watson
Kim Watson is an empath and intuitive who works with multiple healing modalities. In her day job, she is a member of the Senior Staff at the Johns Hopkins Applied Physics Laboratory and is the Technical Director for Integrated Adaptive Cyber Defense (IACD). She has been a member of ACT for over fifteen years and was a member of the CCC from 2003-2007.